Cancer is a scourge concerning way too many people on this planet. Beside usual treatments, willingness and mental force are crucial factors leading to remission. But how do you find the determination to fight cancer when you're only 8 years old? Margaux Borloz gives us the testimony of her adventure and explains how she beat cancer.
Hi Margaux, could you please present yourself to our readers ?
Hi, my name's Margaux Borloz, I'm 19 and I'm in the second year of my healthcare assistant study in a retirement home.
I often write on BetterMe.ch articles praising optimism to help people to stay strong and keep their goals in mind in every situation. I proposed you this interview because you went through a lot of hard events during your childhood. Your courage, force and resilience are an example that could be useful for others that are experiencing similar issues. Could you tell us your story?
It's exact, I had a very difficult childhood because I got diagnosed with a rhabdomyosarcoma, a cancer concerning otorhinolaryngology to simplify, when I was 8. I had a white ball in my right cheek and my parents naively thought that it was a growing tooth. But after making a biopsy, doctors told me that it unfortunately wasn't a tooth, and that I had a tumor.
I received treatment in the HUG of Geneva. I had a lot of chemotherapy and radiotherapy sessions and couldn't go to school because my immune system was too weak.
The hardest part was the chemo. I didn't enjoy eating, which was something I loved. I lost a lot of weight, had hollow cheeks, undereye bags, all of this at 8 years old. I needed a nasogastric tube to eat. How others looked at me was one of the hardest thing for me. Everybody looked at me like if I was an alien. When I was feeling better, I recall going shopping with my mum. The other kids were looking at me, but I saw that they didn't understand what I had and why I was different from them. But an old man stared at me and I really didn't understand his reaction. It was really tough for me.
I couldn't do what I loved anymore: swimming, going out, see my friends, go to school. Everything changed and I went from childhood to adulthood in a heartbeat. The chemo was over, I was in remission, everybody was happy and I was the happiest. I went on holidays with my godmother and my cousins, it was perfect… Until my parents arrived and told me that we had to go to the hospital. I didn't catch it, but the expression on the faces of my parents and my family wasn't good news.
Tumor had grown by 2 millimeters. We had to start all over again. I had two choices: having the operation in the USA or in Paris. We chose Paris as it was the closest solution. I never imagined how heavy the operation was. I was 11 and I didn't realize everything that was happening. My surgeon was about to take my fibula to fix my jaw (yes you read it right). Operation took 12 hours and I woke up totally conscious of what happened 2 days later. I remember, I needed to go to the toilets and 3 nurses came to help. I got agitated thinking that I was old enough to go to the toilets alone. I wasn't measuring how weak I was and that I needed to go slowly. I had crouches for the first time in my life, tubes everywhere and a tracheotomy. Because of that I couldn't talk anymore. They took off from me another thing I loved to do! I was writing on a slate to communicate with my parents and the nurses, and I got mad when they didn't understand. I admit having broken a few slates… My parents were sleeping in a McDonald's house 5 minutes away from the hospital with a lot of sick children's parents, allowing them to support each others. I got home after 2 months in hospital. I had a swollen face but I was able to walk and talk. It was a bit longer with food because you obviously can't eat a steak 2 days after having your jaw replaced. I then did chemotherapy as a prevention treatment and lost my hair for the second time. I was feeling better and got back to school. My friends and classmates never annoyed me with my disease. I always explained everything from the beginning to clarify things directly.
After this, I had a pronounced hollow in my right cheek and I couldn't open my mouth more than a centimeter. It was really annoying esthetically and a real problem to eat. We returned to Paris where they took skin from my shoulder and my left arm to transplant it in my cheek. A transplant from myself to myself if I could say so. I had to do a lot of exercises to reeducate my mouth but all of this was useless as the skin from the transplant rigidified, which we learned only after. I had controls every 3 months in the HUG of Geneva and as it looked stable I only had to check it every 6 months. On my 18th birthday, they announced me that I was cured! I didn't cry but had tears in my eyes…I was proud of having fought until the end because it hasn't been easy everyday. 
What were your ressources during this period? What gave you the power to keep going?
My parents without hesitation! My mother wasn't working at this moment so she was in my hospital room everyday and slept with me every night because a parent had the opportunity to sleep next to his child. Every evening my mother was next to me. When I didn't sleep, she didn't sleep either and she provided me with everything I needed. She was there everyday during all these years without letting me down. When I think about it, I don't know how she resisted to all this.
My father came everyday after work and I was pretending to feel good in front of him. I had to be strong in front of my father, as he taught me.
Of course there was also my grandparents, my uncles and aunts as well as my cousins. It was complicated because I was in hospital when I was doing my chemotherapy or when I had numerous infections. My immune system was really weak and I couldn't be in touch with bacteria so visits were restricted. My friends, they were a few but I had some. Also all those associations that allowed me, as soon as I was feeling better, to see other landscapes than the walls of my hospital room and enjoy days when I was feeling "good".
Also the doctors and nurses who were really empathic were really helpful by explaining me everything they were doing with drawings so that I understand better.
Talking about the associations, which one helped you? What was their role in your cure?
There was « A chacun son Everest » who took me in a camp in Chamonix (France) with other kids like me. We did climbing, treks, went on snow with sled dogs, in the mountains etc. This adventure made me understand that other kids were suffering like me and I told myself that I'll beat this disease. I had a lot of support during this camp and this gave me hope.
« Action Sabrina » (now represented by the association Children Action) realized one of my little girl's dream which was swimming with dolphins in Malta. We went there with 15 other children and teenagers and had a incredible adventure.
« Courir ensemble » also made one of my dreams come true: attend a concert of « les Enfoirés » and meet Jean-Jacques Goldman, Mimie Mathy, Nolwenn Leroy, Christophe Maé as well as other artists.
At the « Kiwanis », I got picked by a lady that made a donation to allow a kid to go to Europa Park, where I could invite my cousins and my godmother to have 2 memorable days.
Obviously, I had the opportunity to live those marvelous activities when I was in remission or when I wasn't in chemotherapy and that I was feeling well. I needed the OK from the doctors and I was leaving without any other question. There was an experience to live? I was part of it!
Now that you've been cured for several years, does the disease still have an impact on your everyday life?
Yes I still have scars of everything I went through. But I'm not ashamed of this because it has become a part of me. I eat correctly now and I can walk without a problem. Everything's good! 
What lessons did you get out of this?
Never give up. Even if it's hard, think about the victory and the pride of never letting go.
What would you like to say to other people that are experiencing similar events right now? Do you have advices to give them?
Things are not always simple, don't let go! Stay with the people you love. You'll understand during those events who really remains to support you. As soon as you go out of the hospital, enjoy all the activities that you can. Because you won't be able to do them as soon as you get back in your room.
This website is called BetterMe, what do you do everyday to get a little bit better? 
I try not to argue or worry about stupid things and live life day after day. I try to help people and always listen to my friends and patients. I chose to work in healthcare because I like to help others.
This article is dedicated to people that fight the disease day after day and to all the children that met Margaux and who didn't get the chance to be cured. I'd like to allow other children to live one of their dreams by giving to the association Courir Ensemble (chosen by Margaux) 10 cents for every person that JOINS MY FACEBOOK PAGE AND SHARES THIS ARTICLE.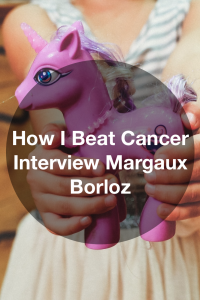 PS: if you want to contact Margaux Borloz for any question, remark etc. please use the contact form and I'll give you her email address.
Julien Borloz