« The trouble with unemployment is that the minute you wake up in the morning you're on the job ». Slappy White
Hi ! I'm Julien Borloz, 25, successfully graduated from a Master of Science in Clinical and Health Psychology from Fribourg University, Switzerland. I've been working during all my studies as a call center telephonist, nightwatch, educator, window cleaner, child tutor and intern psychologist, and when I was finally ready to enter the real job market…BOOM ! Destiny sent me to unemployment.
« Why do you wanna be a psychologist ? Don't you wanna try Law school or Medicine ? » said my father. So after digesting the fact that I prove my father right (temporarily), I turned to my favorite motivational mentor : Michael Jordan. He said : « obstacles don't have to stop you. If you run into a wall, don't turn around and give up. Figure out how to climb it, go through it or work around it ».
So here's 2 ways of climbing, working around or going through a period of unemployment (and all the paperwork that comes with it).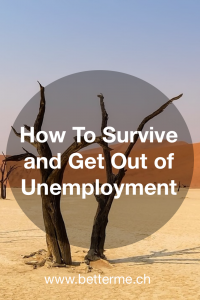 Valorization
A major part of our society gets valorized through employment and people with great careers are admired. When unemployed, you lose an important source of personal fulfillment. It is then primordial to find value in other domains of your life.
Be healthy 
Practicing physical activity (even a little), eat healthy food and taking care of yourself mentally and physically will give you a feeling of achievement, make you proud and boost your self-esteem. No need to go hardcore on this! Have a nice little 20 minutes run, make a good dish, even if it's pasta : take time to prepare a delicious sauce and treat yourself ! Simple actions will make you proud and feel valorized !
I personally train harder at practice (as you may have guessed before, I'm a basketball lover since 1996) and try to eat healthy meals as much as I can (yes I also love pizza since forever).
Engage yourself 
When we benefit of society's help, we may feel beholden in certain ways. So why wouldn't you help somebody too ? Take care of your relatives, try volunteering, take time to help others and realize your personal projects ! A study showed that volunteer work enhanced happiness, life satisfaction, self-esteem, sense of control over life, physical health and reduced risks of depression.
I personally take advantage of my free time to visit my grand-parents, see friends that I didn't have time to see before and work on this personal coaching website.
Learn 
You don't have a job now but it's always time to learn something. If employment office offers you training opportunities, jump on it ! Read books, subscribe to courses, attend conferences ! This will stimulate yourself intellectually and will help you find a job by improving your skills and meeting new people.
I personnaly read web articles and books on psychology and personal development on a daily basis and I'm looking forward to subscribe to a massage course.
Action
You won't find a job sitting on your couch and watching TV waiting for somebody to knock on your door to propose you one. Here's a few ideas to help you :
Activate your network
It's by far the best way to find a job nowadays because a lot of positions don't even come out on job offers and are attributed directly by word of mouth. Furthermore, friends that appreciate you will be your best advertisers to your potential future employer. Use social media to ask your acquaintances for help, contact former employers, ask people of your niche for interviews or advices (LinkedIn is a wonderful tool to search for people working in your domain) and communicate around you that you're looking for work.
Diversify your search websites
Register on multiple job search websites, set email alerts to send you new offers in your domain, call people, send mails and emails, in short : try different search strategies to have the best visibility.
Never lose hope
Job market is what it is, being unemployed happens to big fancy traders as well as construction workers and you should never be ashamed of your situation.
After 5 months of research, I finally found a job as a psychologist (while everybody was telling me that it will be impossible without doing underpaid internships before), I founded my online coaching website and I'm actually negotiating my first independant coaching contract with a big firm!
Keep on fighting, put all the chances on your side, be creative and cocky and the rest will follow !
« Don't quit, suffer now and live the rest of your life as a champion ». Muhammad Ali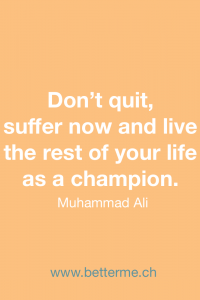 And you, how did you experience your unemployment ? How did you overcome it ?
Julien Borloz